Iznik tiles are the ceramic tiles produced from the last quarter of the 15th century until the end of the 17th century.
Iznik is a town in north-west Anatolia, now in Turkey. Under the Byzantines the town was known as Nicea. The city was primarily known as the site of the first Ecumenical Council in the early history of the Christian church (325 AD). It was later famed for its highly decorated ceramic production during the Ottoman period.
Iznik ceramic ware was originally made in imitation of Chinese porcelain and were highly prized by the Ottoman sultans. Around 1550, beautiful tiles were produced to cover 3 great monuments: the Dome of the Rock in Jerusalem, the Suleymaniye Mosque in Damascus, and the Suleymaniye complex in Istanbul.
Large collections of Iznik vessels and tiles are shown in the British Museum, Le Louvre, the Sèvres and Écouen Museums, etc.   Iznik tiles may be seen in quantity in the imperial and religious buildings of Istanbul.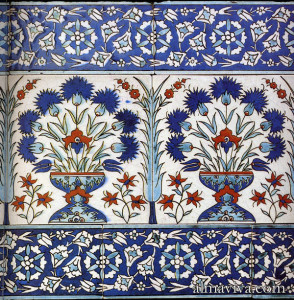 Enregistrer
Enregistrer
Enregistrer