The word alicatado comes from the Arabic alcâ'ât which refers to patios. An alicatado is a composition of fragments of tiles of various sizes and coulours. This technique is close to mosaic. This technique was developed and much used in Al-Andalus (modern day Spain) under the Moors. Many examples of walls covered with Mudéjar alicatados can be admired in the Alhambra of Granada or in the chapel of San Bartolomé in Cordoba.
This art of ceramic is much related to the Morrocan zellige.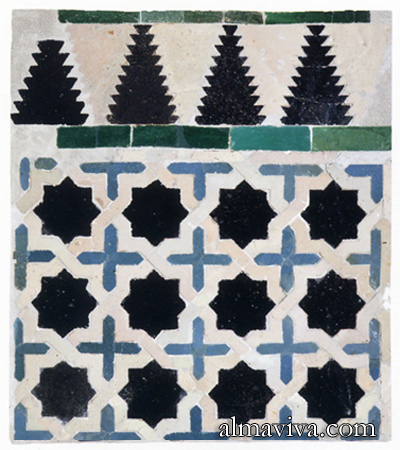 See examples of alicatados in our gallery of zellige.
Return to ceramic keywords.
Enregistrer
Enregistrer
Enregistrer
Enregistrer
Enregistrer
Enregistrer
Enregistrer
Enregistrer
Enregistrer
Enregistrer
Enregistrer
Enregistrer
Enregistrer
Enregistrer
Enregistrer
Enregistrer
Enregistrer
Enregistrer